Berlin, October 7 2016. After well-known rail freight sector bosses and transport politicians of all factions voiced their support for upgrades to the German rail network to allow longer freight trains to operate, they have now received the backing of regional transport ministers, who have just concluded their state transport ministers summit. The transport ministers are calling on the federal government to create improved development perspectives to enable rail freight transport to increase its market share. In particular, the federal government should make a statement on "operating 740 meter freight trains across the network", said the transport ministers in a unanimous resolution passed on Thursday at their summit in Stuttgart. According to enquiries made by the Pro-Rail Alliance, a non-profit transport association, the regional transport ministers in North Rhine-Westphalia, Hesse, Baden Württemberg, Brandenburg, and Saxony-Anhalt all regard the 740 meter freight train as an intelligent means of shifting freight from the roads on to the railways, benefitting the climate. The German Environment Agency is now also urging the rapid implementation of measures to allow operations of longer freight trains, which will facilitate modal shift and help meet climate targets.
Transport experts from all the national parties have already acknowledged the positive impact that a 740 meter freight train train would have for the climate. The bosses of DB Cargo, SBB Cargo International, the Havelland Railway, the Port of Hamburg Railway and the freight forwarder Konrad Zippel are all hoping for a double-digit increase in efficiency. To achieve this, passing loops at selected places across Germany have to be extended and several network bottlenecks have to be addressed.
According to the national operator Deutsche Bahn, the standard European train length of 740 metres cannot operate on many lines in Germany. Due to what are often minor network restrictions, only 11 percent of freight trains operating in Germany are of the standard EU length.
North Rhine-Westphalia: transport minister Groschek calls on government to act quickly
At the summit of state transport ministers in Stuttgart, the social democrat transport minister of the state of North Rhine-Westphalia, Michael Groschek, urged the federal government to act so that legislation on upgrades for longer freight trains can be passed this year. "We are making the infrastructure in North Rhine-Westphalia fit for the future. It is Germany's most populous state and has the largest volume of traffic. To this end, we also urgently need to have upgrades to the rail network for 740 metre freight trains added to the legislation on federal rail infrastructure construction, because every single one of these trains replaces 52 HGV on the roads. The federal transport ministry must now quickly submit the relevant route assessments so that – once the federal parliament has given the go-ahead – implementing the measures can commence this year," said Groschek.
Baden-Württemberg: transport minister Hermann wants upgrades and electrification
For Baden-Württemberg's transport minister Winfried Hermann (Green Party), his state's climate targets were most important. "The state administration's goal is to make transport more climate friendly. This is why we want to increase modal shift from HGVs to trains. This will only be successful if we considerably improve noise abatement and halve noise emissions from the railways by 2020." Hermann referred to Switzerland's modal shift policies as a case in point. "Our Swiss neighbours are following the same goals and are upgrading their railway corridors and the Gotthard tunnel. That allows operations of trains with a length of 740 meters and create more capacity. The German government should use the legislation on federal rail infrastructure construction to ensure that the network can be upgraded for more freight transport, as well improved electrification and other modernisation measures."
Brandenburg: transport minister Schneider hoping for boost for rail corridors
State transport minister Kathrin Schneider (SPD) is hoping that upgrading the German network for the 740 meter freight train will boost the Berlin and Brandenburg area. "The region around the capital has developed into an important logistics centre in the network of European rail corridors. However, many rail tracks only allow very short freight trains to operate. This is why we need the upgrades that will make the railway infrastructure more productive. Even low cost measures such as reorganising signalling and extending passing loops can lead to improvements," said Schneider.
Hessen: transport minister Al-Wazier sees positive impact of 740 meter freight train on noise

The transport minister of the state of Hesse, Tarek Al-Wazir from the Greenss hopes that one side-effect of the 740 meter freight train will be a reduction in rail noise. " It is actually a good idea to make better use of the maximum permissible length of freight trains. The same volume of goods can be transported with fewer trains. One happy side-effect of this increase in efficiency is that we can achieve a reduction in noise levels. Instead of many shorter trains, fewer standard length trains will be operating. For this reason, this approach is very welcome from the state of Hesse's point of view.
Saxony-Anhalt: state secretary Putz wants longer freight trains in the east of Germany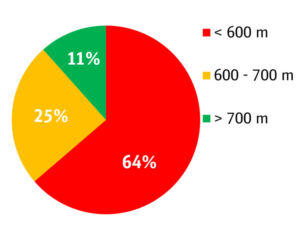 The state of Saxony-Anhalt is hoping that upgrading the network for 740 meter freight trains will bring the long-overdue modernisation of the infrastructure in the east of the country. "In the eastern German states there is still a considerable backlog of rail infrastructure requirements. For example, passing loops that are too short restrict rail freight transport, which forces many trains to be shorter than otherwise necessary, particularly on the east relation," said state secretary Sebastian Putz, who was representing transport minister Thomas Webel (CDU) at the summit of state transport ministers. State secretary Putz was also among the voices urging the government to act quickly. "When projects were being registered for the draft federal infrastructure plan, many small, easy to realise measures were put forward for alleviating these restrictions in the near future. The upcoming legislation on federal rail infrastructure construction could put Germany on course this year to making the necessary upgrades to its infrastructure."
Video: statement by Dirk Flege, managing director of the Pro-Rail Alliance (47 sec, German)
Pro-Rail Alliance: 740 meter network must be given priority
The managing director of the German Pro-Rai Alliance, Dirk Flege, was visibly pleased with resolution passed at the transport minister's summit. "With their resolution, the states have put rail freight transport high up on the agenda," said Flege. "This is good news for climate protection and a glimmer of hope for Germany's car drivers, who will be grateful to have fewer HGVs on Germany's roads. It is a clear signal for federal transport minister Alexander Dobrindt that the era of network bottlenecks and short freight trains must now come to an end." Flege estimates that the 66 upgrade measures for the operation of a 740 meter freight train identified by the network operator DB Netz will only cost between 200 and 300 million euros. "The measures will greatly benefit the economy and the environment, and are not difficult to implement. It often only involves moving signals and extending passing loops," said Flege, who called for urgency. According to the EU Commission, all routes on Europe's core rail networks should allow trains with a length of at least 740 metres to operate by 2030.
Additional information:
What Germany's rail freight bosses are calling for: the 740 metre network
740 metre trains: what federal politicians are saying about longer freight trains
The Federal Environment Agency is also calling for longer freight trains
Background: how to enable 740 metre trains to operate
Chart: development of the price gap between HGVs and freight trains from 2010 – 2016
Business want more freight trains: modal shift concepts from Henkel and BASF
EU per capita investment: Germany lagging behind on network upgrades