Berlin, February 17, 2016. The volume of freight being transported continued to grow in 2016. As reported on Friday by the German Federal Office of Statistics, the volume of transported goods amounted to 4.6 billion tonnes. Road freight transport profited most from this development, enjoying growth of 1.5 percent over the previous year. In contrast, rail freight is declining, with transport volumes falling by 1.6 percent to around 361.3 million tonnes. Based on these figure, the German Pro-Rail Alliance has calculated that rail freight transport had a market share of 17.6 percent in 2016, down from 18 percent.
Rail freight transport suffering under policies that favour HGVs
"Rail freight transport is increasingly becoming a big worry for policy makers," said the managing director of the Pro-Rail Alliance, Dirk Flege, on Friday in Berlin. "With the publication of the official statistics, the federal government has today been given a painful reminder of where its HGV-friendly policies will lead." Flege calculated that goods trains in Switzerland already have a market share of 42 percent, and 30 percent in Austria. "Germany's policies on shifting transport mode are going the wrong way: from the railways onto the roads. With regards to our targets on the environment and the climate, this is going to be a high-speed crash."
Infographic: Rail freight transport's market share in Germany
Basis: economic performance in tonne-kilometres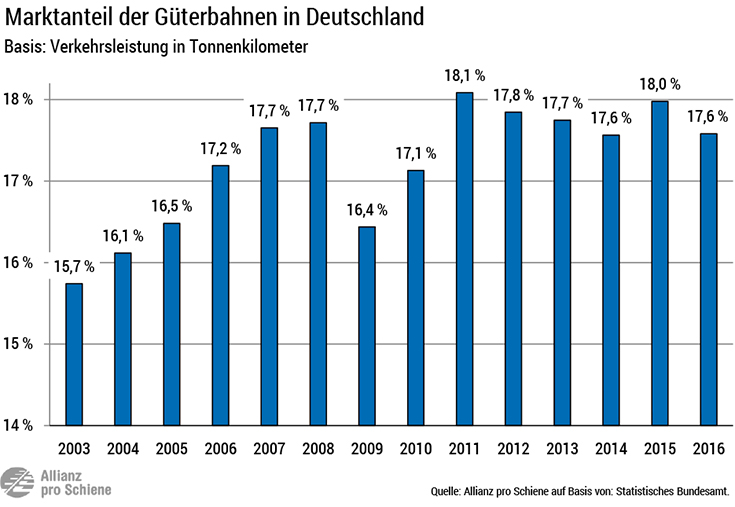 Source: Pro-Rail Alliance, based on figures from the German Federal Statistics Office
The framework conditions for goods trains are devastating
The Pro-Rail Alliance managing director warned the federal government against trying to shirk its responsibility by using cheap clichés to blame the management of the rail freight transport companies. "The framework conditions for rail freight transport in Germany are devastating: lower road charges for heavy goods vehicles, increasing track access charges for rail operators, higher taxes on rail traction current and increasing EEG renewable energy levies on goods trains have completely distorted the pricing structure, to the detriment of the railways," said Flege. In addition, politicians are continuing to subsidise diesel fuel, which has been sinking in price for years. "Ironically, the environment and climate friendly railways are having to fight market conditions that are becoming ever more difficult, even though they urgently need the freedom to develop and introduce promising innovations."
Studies forecast market share of up to 35 percent
Infographic: The railway's share of freight transport
Germany, Austria, Switzerland, forecast
Flege referred to numerous studies that confirm rail freight transport's potential in Germany. "Various experts from the Federal Environment Agency to the German Aeronautics and Space Research Centre DLR all forecast a much larger market share for goods trains in Germany by 2030. There are no magic tricks involved; it is something that Switzerland and Austria prove year on year," said Flege. A 50 percent cut in track access charges for goods trains would be an important first step in getting Germany's rail freight sector back on track.
Percentage of overall market measured in tonne-kilometre for HGVs, freight trains, inland waterways and oil pipelines.
Source: Pro-Rail Alliance, based on figures from the German Federal Statistics Office and Austrian Statistics Office and the quoted forecasts.
Additional information (German):

Destatis: statistics on freight transport 2016
The railway associations' key policy demands for after the next election
German Environment Office study: Strategies for Sustainable Freight Transport