Berlin, October 31, 2016. The German Pro-Rail Alliance has reacted with dismay to a report in today's Stuttgart Zeitung newspaper that the German federal transport ministry is already working on allowing longer heavy goods vehicles (LHV), so-called Gigaliners, to make cross-border journeys. "There is now a threat that the floodgates will open for LHVs," said the managing director of the Pro-Rail Alliance, Dirk Flege, on October 31 in Berlin. "Although the ministry's website innocently states that cross-border journeys are forbidden under EU legislation, they are in fact already working hard on evaluating the next steps," said Flege. He said that a "ministerial misunderstanding" could be ruled out. "During the five years that the road trials have been running in Germany, permitted using an exception provision, the federal transport ministry been under pressure from the truck lobby to continually expanded the network of routes where LHVs are allowed to operate," said Flege. "And many of these routes lead directly to Germany's borders." This means that the next sin is now inevitable and will not only affect the length of the vehicles but also their weight, criticised the transport alliance boss.
Open border means the introduction of 60-tonnes trucks
"60-tonne trucks have been in use in many neighbouring countries for some time. If Dobrindt now opens the border then 60-tonne trucks from the Netherlands and Denmark, as well as 64-tonne trucks from Sweden, will soon gain entry to Germany," warned the Pro-Rail Alliance managing director. "Instead of having a serious discussion about the pros and cons once the trials have concluded, the ministry is already working allowing on regular cross-border operations via the back door." The assurances that Germany will never allow more that 44 tonnes, routinely stated by the proponents of LHVs, will lose all credibility after this development. Flege pointed out that the 'regular operations of LHVs' that are always being touted by Dobrindt are also banned under EU law.
Map of length and weight of longer, heavier vehicles in Europe

Road trials conclusion: LHVs are dangerous, expensive and damage the environment
At the end of the five-year roads trials of 25-metre trucks on selected roads, the Pro-Rail Alliance's conclusion is a clear rejection of the LHV concept:
LGVs pose a safety risk for car drivers. Even today, HGVs are involved in one in five fatal accidents, which is why the majority of Germans oppose longer vehicles, according to a poll by Forsa. The trials could not disconfirm these safety risks because only a few vehicles were involved.
LHVs are expensive for taxpayers because larger heavy goods vehicles will cause disproportionally greater damage to already dilapidated transport infrastructure. Upgrades to tunnels, roundabouts and parking bays will mean additional costs to taxpayers, whereas road tolls on HGVs have just been cut by the federal transport ministry.
LHVs damage the environment because reducing the cost of HGV transport will result in freight being shifted from trains to trucks, which has already happened in Sweden. This will result in more HGVs on Germany's roads, not fewer. Environmentally friendly rail freight transport will be negatively impacted, an outcome that cannot be represented in trials involving only a few vehicles.
Additional information
Questions and answers on longer, heavier vehicles
1. What actually is a longer, heavier vehicle?
They are known as Gigaliners, EuroCombis, Ecoliners or Long-HGVs, but behind the harmless sounding names are quite simply even longer and heavier goods vehicles. As part of its current so-called road trials, Germany allows trucks measuring 25 metres and weighing up to 44 tonnes. But where LHVs are already being used in other parts of Europe they can weigh up to 60 tonnes, for example in the Netherlands and Denmark. Sweden has just announced that it is increasing the maximum weight from 64 tonnes to 74 tonnes. Trials of trucks measuring 30 metres and weighing up to 90 tonnes are underway.
Longer HGV = 25.25 metres, Standard HGV = 18.75 metres, Car = 4.2 metres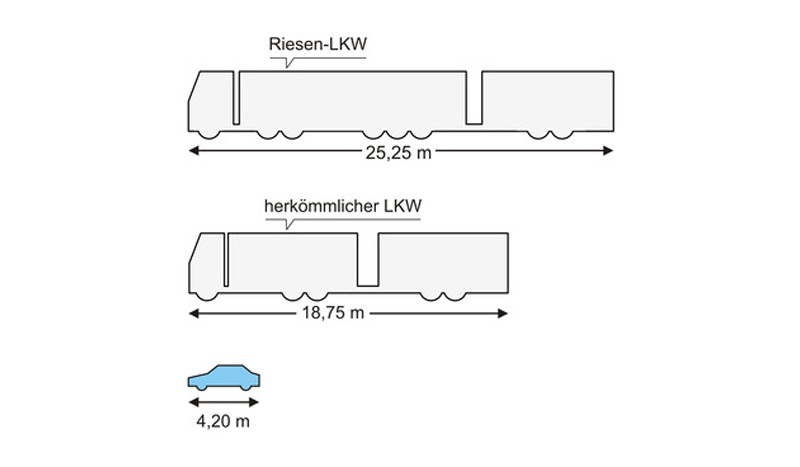 2. Where can longer HGVs be found on Europe's roads
LHVs have been in use in Finland and Sweden for some time now. However, Scandinavia's regions are very spread out and thinly populated, with low volumes of traffic. These countries cannot be compared with the rest of Europe, where the road network is dense and the traffic is very heavy, making them unsuitable for LHVs. In addition, Denmark and the Netherlands are running trials of 25 metre trucks that weigh 60 tonnes.
3. Where are LHVs being used in Germany?
The German government issued an exemption provision in December 2011 to allow trials of LHVs to take place. Apart from motorways and federal roads, the federal government's provision allows mega trucks to use numerous regional, district and local roads. The trials are set to run for five years and will conclude at the end of 2016.
4. What are the supporters hoping for?
The supporters of longer vehicles like to back up their cause using environmental arguments, but in reality they are hoping to make savings of up to 30 percent for road transport. The supporters of longer vehicles include the German Association of the Automotive Industry VDA, the Federation of German Wholesale, Foreign Trade and Services BGA, and various other road transport associations.
5. What are the opponents afraid of?
The opponents of longer vehicles are afraid that the cost reductions gained by using LHVs will be lead to an increase in the volume of road freight transport. The cost advantage from LHVs could lead to goods being shifted back onto the roads from more environmentally friendly transport modes, resulting in more truck journeys and a greater impact on the environment. The opponents of LGVs include the automobile clubs, environmental groups and railway companies that make up the Pro-Rail Alliance as well as the German Association of Cities and the German Police Union. On the European level, opposition has joined forces in the No Mega Trucks campaign.
6. What has the EU decided on LHVs?
The European parliament and EU transport ministers last year rejected moves by the EU Commission to make changes to a directive that would allow longer, heavier vehicles (LHVs) to make cross-border journeys between neighbouring countries. Whereas trials of LHVs are currently taking place in several member states, the EU has now shown the so-called Gigaliners a stop sign. With its proposals for improving safety and optimising aerodynamics, it is taking a completely different approach.
Video: Gigalinger – horror-vision for Germany (German, 5:50 min.)