Berlin, June 15 2016. In the run-up to today's extraordinary meeting of Deutsche Bahn's supervisory board to discuss the planned cuts to its DB Cargo division, the German Pro-Rail Alliance has pointed out that politicians bear a considerable share of the responsibility for the difficult situation that rail freight transport finds itself. A recent comparison of EU countries drawn up by the Pro-Rail Alliance confirms that Germany imposes the second highest rate of tax on railway traction current in the European Union. In absolute figures, the railways have to pay the German state more than 11 euros per megawatt-hour, whereas many other countries – such as Belgium, Sweden or the United Kingdom – completely exempt their railways from taxes or impose only a minimum burden – for example France, the Netherlands or Spain.
Infographic: European comparison of taxes on railway traction current
Traction current tax in euros per megawatt-hour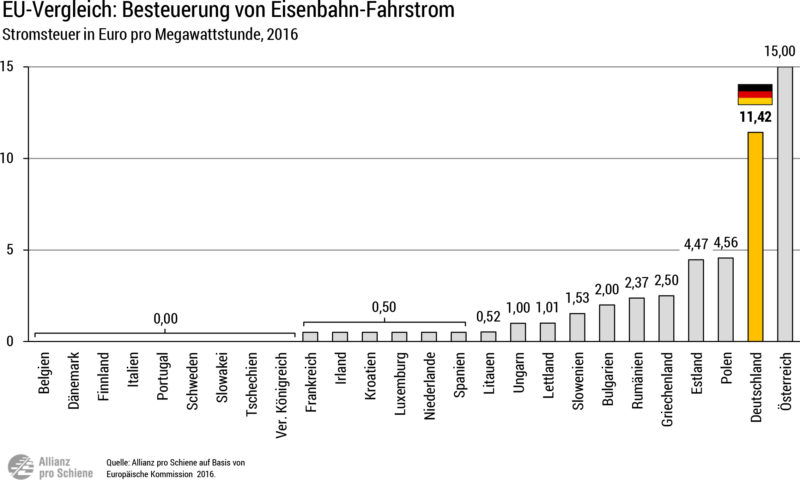 Traction current taxes – EU comparison: Germany imposes the second highest rates behind Austria
High taxes on traction current: rail freight needs rapid help
"Because of the alarming state of rail freight transport, politicians are under an obligation to take action," said the managing director of the Pro-Rail Alliance, Dirk Flege, on Wednesday in Berlin. "In order to provide rapid relief to rail freight, Germany's taxes on rail traction current should be cut to zero," demanded Flege. That is explicitly allowed under EU legislation und would cost the federal government around 150 million euros. "In 2014, Germany received 141.40 million euros in taxes on traction current from the train operators," according to Flege's calculations. Reducing this burden would provide quick and appreciable relief for rail freight transport without causing an unreasonable reduction in income for the German budget. "The federal government can now show – quickly and unbureaucratically – that it is serious about its commitment on climate protection and on a modal shift from the roads to the railways."
Additional information:
The EU directive 2003/96/EC states explicitly that: "(…) Member States may apply (…) exemptions or reductions in the level of taxation to (…) energy products and electricity used for the carriage of goods and passengers by rail, metro, tram and trolley bus.". The complete directive can be downloaded here.