Berlin, April 4, 2016. Germany's biggest rail sector job exchange has been given a springtime relaunch. The job exchange lists job opportunities at numerous companies and now offers improved search functionality and a greater choice of different types of profession for those looking for employment. Two and a half years after its initial launch, the portal has become increasingly established among the sector's major players. Alongside Deutsche Bahn, the joint rail sector job exchange is now supported by nearly all its competitors, such as Transdev, Netinera and Benex. The Pro-Rail Alliance, the job portal's initiator, is happy with how it has developed. "SchienenJobs.de is picking up speed," said the managing director of the Pro-Rail Alliance, Dirk Flege, on Monday in Berlin. "However, it was high time that the companies in the railway sector started collaborating in order to emphasise the sector's attractiveness."
"Train drivers in short supply"
Flege pointed out that the shortage of personnel in some types of job continues to be dramatic. "Train drivers are in short supply and the personnel managers in our companies take an extremely long time to fill the vacancies." With SchienenJobs.de, the sector wants to address the upcoming generation of talented people. Currently, there are around 4,000 open vacancies listed on SchienenJobs.de. The job opportunities range from operating trains to professions such as mechanical engineering, electrical engineering, industrial engineering and management, and traffic engineering. The completely redesigned web site has an improved search interface and gives job seekers the possibility to recommend positions or to receive information per mail about open positions that come up in the future. The portal is now also fully compatible with mobile devices.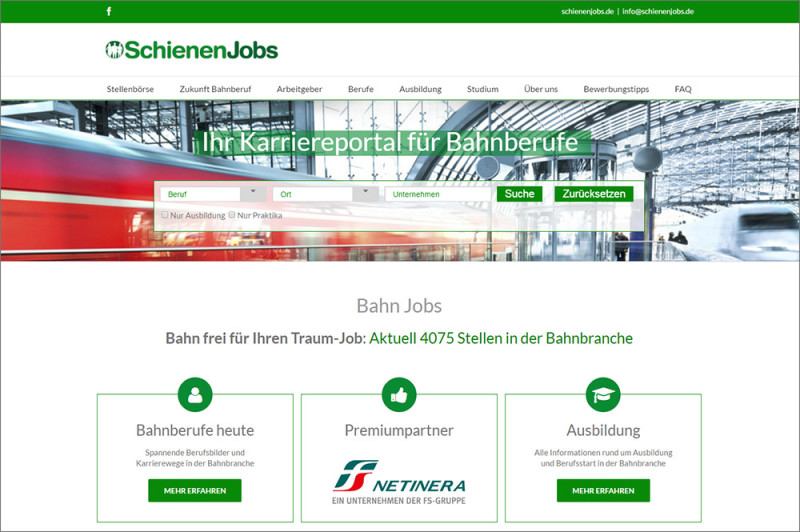 SchienenJobs lists jobs at numerous companies

The SchienenJobs.de employment exchange has been online since October 2013. It is a specialist job exchange and information platform covering all aspects of rail related employment at numerous companies, and lists open positions so that applicants and employers can link up more quickly. The job exchange was initiated by the Pro-Rail Alliance and Index Internet Media Research with the intention of emphasising the railway sector's traditional role, which like the automotive industry is one of Germany's major employers. SchienenJobs.de is supported by major players in the sector such as Bombardier, Deutsche Bahn and more recently its competitors Transdev, Netinera and Benex. Also on board are the rail sector associations VDV and VDB as well as important industry insurance companies like DEVK und BAHN-BKK.
Additional information (German):