Berlin, December 21, 2015. Now that the climate agreement has been finalized in Paris, the German Pro-Rail Alliance is calling on politicians to implement decisive policy changes. "The global climate agreement is an excellent international achievement, but all countries now have to do their homework," said Dirk Flege, managing director of the Pro-Rail Alliance, on Monday in Berlin.
Greenhouse gas emissions by sector – Germany and the EU-28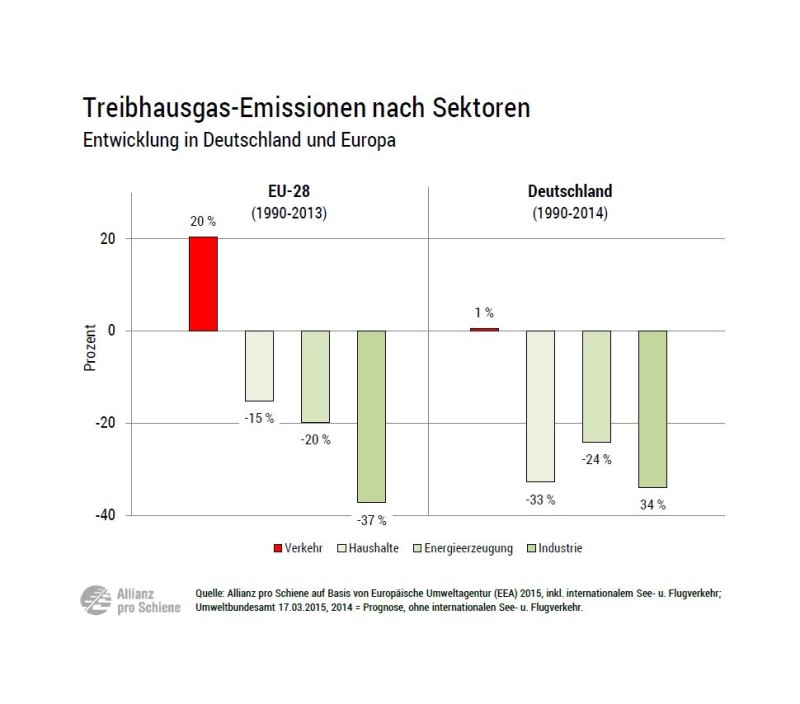 Flege referred to the latest data on CO2 emissions for different sectors of the economy in the EU and Germany. The EU as a whole now emits 20 percent more greenhouses gases than in 1990, whereas households, energy and industry have made considerable reductions. The development of greenhouse gas emissions in the German transport sector is also nothing to be proud of. "Since 1990, there has been no progress on reducing levels. Just a quick glance at the data makes it clear that the hard work is just beginning," said Flege. "There is certainly still a large gap between climate protection and the transport sector".
Following on from the Paris agreement, the Pro-Rail Alliance is calling for concrete policy changes to strengthen the climate-friendly railways, above all Germany's over-taxed freight trains. "Rail freight transport pays green energy levies (EEG), taxes on electricity as well as the ever-increasing track charges, whereas road freight profits from low diesel prices and sinking road tolls on HGVs," said Flege. Although the railways in many European countries are completely exempted from taxes on electricity, taxes in Germany are the second highest in the EU. This is an area where policy makers could quickly make changes without any bureaucratic red tape, added the Pro-Rail Alliance managing director.
"In the light on the Paris agreement, the whole transport sector in Germany must be thoroughly examined," said Flege. He called for a obligatory market share targets for transport modes that have lower impact on the environment. In view of the Herculean tasks facing politicians on climate protection policies, federal transport minister Alexander Dobrindt would be well advised to not license longer, heavier vehicles for regular freight transport. The extra-long HGVs are currently being tested on Germany's roads. In Sweden it has already painfully demonstrated that the use of the so-called Gigaliners has led to a shift in freight from the railways onto the roads, causing an increase in emissions of greenhouse gases.