With the closure of the Rhine Valley line near Rastatt, rail freight transport in Europe is experiencing a debacle of an unprecedented magnitude. The Pro-Rail Alliance is demanding from the federal government and Deutsche Bahn a comprehensive fall-back concept, providing alternative routes to prevent freight from being shifted to the roads. Politicians need to begin a rapid programme of electrification to ensure that the gaps in overhead power cables on the German network are closed, demanded the Pro-Rail Alliance.
Berlin, August 28, 2017. "The stretch of track in the Rhine Valley near Rastatt is one of Europe's major freight transport arteries. The fact that the line will be closed until October is almost unimaginable," said the manging director of the German Pro-Rail Alliance, Dirk Flege, on Monday in Berlin. Because of a lack of sufficient alternative routes, there has already been a massive shift of freight transport to the roads. The consequences for the economy are catastrophic, not to mention the effect on the environment and traffic safety. "The government is now paying the price for having been stingy with upgrades to the rail network over the last few decades," said Flege, who pointed out that lines that could have been used for diversions are not electrified. "A similar problem on the road network to the Rastatt closure would simply not be possible. Routes without alternatives do not exist on the roads. When it comes to the German rail network, everything has been stitched together without any reserve in the system."
Politicians should now not waste any time and begin a vigorous crisis management process. "We would wish that the federal transport minister understood his role as that of a crisis coordinator for the rail freight operators in Germany and in other European countries, which would help them to overcome this line closure and survive economically," said Flege. Together with the infrastructure operator Deutsche Bahn and the train operators, the Transport Ministry should develop a fall-back concept so that this type of bottleneck can be eliminated in the future. "The gaps in electrification, such as between Tübingen and Horb, should not be allowed to exist in the future. The federal government must now quickly make the necessary investment funding available," complained Flege.
Infographic: Electrified lines in the state rail network
Left: Share in percent, selected countries 2015 (EU total, France, Germany, Spain, Poland, Austria, Italy, Sweden, the Netherlands, Belgium, Switzerland).
Right: Development between 2007 and 2015 (Switzerland, Sweden, Austria, Germany, EU total)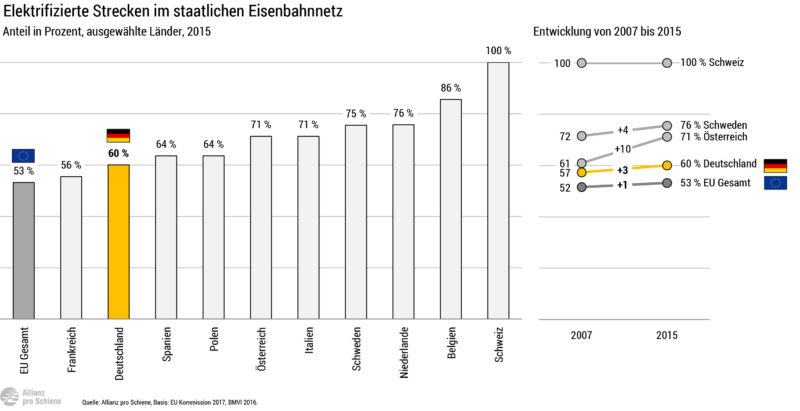 Source: Alliance pro Schiene. Based on data from EU Commission 2017 and German Federal Transport Ministry 2016
"Many Europeans are rightly shaking their heads in disbelief over the Rastatt closure, and unfortunately we have to state that Germany has not done its electrification homework in many cases," criticised the Pro-Rail Alliance managing director. The latest EU figures show that at 60 percent network electrification, Germany is only very average in comparison with other EU states.
The Pro-Rail Alliance wants the next German government to commit to an electrification target of 70 percent by 2025, directly after September's general election. "Then we will at least be able to say to our European neighbours: it was a disaster, but we have learnt from what happened."
Infographic: More electric traction: 70 percent electrification by 2025
Proportion of electrified lines in Germany's state-owned rail network 2005 – 2015 in percent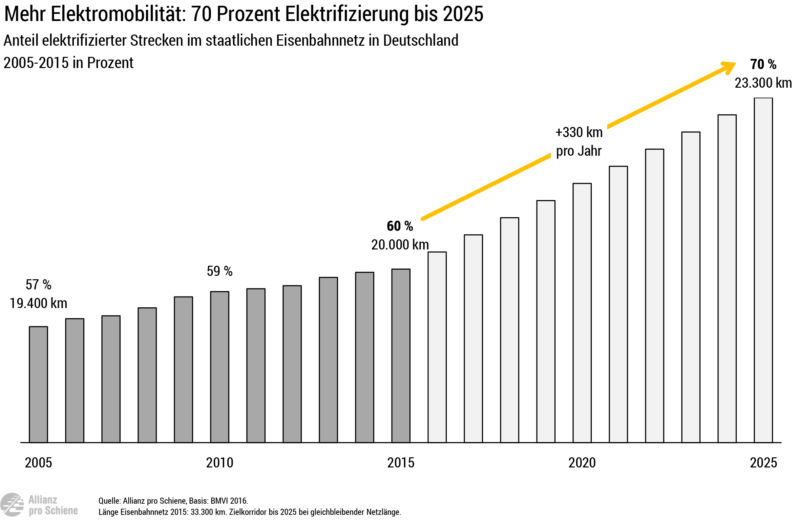 Source: Alliance pro Schiene. Based on data from German Federal Transport Ministry 2016
Length of rail network 2015: 33,000 km: Target corridor to 2025, with the track length remaining the same