Berlin, July 19, 2017. The summer holiday season has arrived in Germany. But many holidaymakers who are conscious of their own climate impact see themselves as clearly at a disadvantage. Whereas climate-damaging aviation is completely exempt from VAT on international flights, passengers on international train and coach journeys starting in Germany have to pay the full VAT rate of 19 percent until they reach the border, criticised the German Pro-Rail Alliance and the Federal Association of Omnibus Companies (bdo) on Wednesday in Berlin.

Bus, coach and rail are taxed, aviation exempted.
VAT rates on international travel in 2017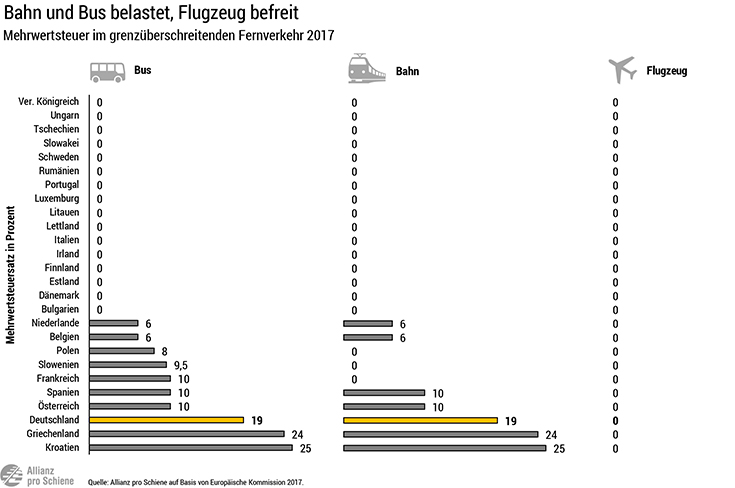 Source Alliance pro Schiene, based on European Commission data 2017
Other EU countries exempt buses, coaches and trains from taxes
"Germany always wants to be regarded in the EU as a pioneer when it comes to climate protection, but the reality in Germany is that air travel is given preferential treatment. Our European neighbours take a markedly different approach: many EU countries impose little or no VAT on international train and coach tickets, and at least give them an equal positon as environmentally-friendly alternatives to air travel," said the managing director of the Pro-Rail Alliance, Dirk Flege. The unfair taxation is an obstacle to the creation of a dense network of night train services that travellers appreciate, especially during the holiday period, complained the Pro-Rail Alliance. The money lost to the German government by exempting international flights from VAT amounts to 4.8 billion euros annually, reckons the Pro-Rail Alliance.
Massive disincentives must be reconsidered
"People who are environmentally aware and travel by coach and train are being thoroughly punished," said Christiane Leonard, managing director of the bdo, referring to the disadvantages imposed on both forms of transport. "In the interests of the environment, as well as fair market conditions, these massive disincentives must be reconsidered after the upcoming general election," continued Leonard.
Holidaymakers without cars need good connections to transport networks
The German Tourist Organisation DTV called additionally for a push towards more environmental awareness in domestic tourism by improving transport connections to the tourist regions. "When the holiday rush begins and Germany is once again drowning in traffic congestion, then it is already too late to do something about it. The DTV is therefore saying that now is the time to make improvements to the Federal Transport Infrastructure Plan and the Regional Transport Plan so that the needs of tourists can be better taken into account," said the DTV president Reinhard Meyer. "We have to make it as easy as possible for holidaymakers to switch to environmentally-friendly modes of transport. We can achieve that, for example, with direct intercity connections without the need to change trains, or by integrating scheduled coach services into the traffic concepts of the local authorities," said Meyer. But after a car-free journey, holidaymakers still have to be mobile once they reach their destinations. "One successful model for motivating holidaymakers to switch to environmentally friendly forms of transport is to offer local or regional visitor tickets, for example just like the KONUS 'Guest Pass', which is available in the Black Forest Region," said Meyer.
Additional information:
Download chart on VAT rates on buses, coaches and trains in the EU