740 metre freight train – what's it all about? In 2015, rail freight's economic performance was 116.6 billion kilometre-tonnes. Freight trains are the preferred mode of transport for ore, coal, cement, grain, heating oil, molasses and milk. The majority of new cars are also transported by freight trains – in addition to a vast number of containers. Rail freight transport is growing and must continue to grow in the future because, in comparison with the roads, aviation and the inland waterways, rail is the most climate-friendly mode of freight transport. The Federal Environment Ministry and the Environment Agency have said that over the next ten years, rail freight transport's economic performance must be almost doubled.
However, there are already bottlenecks in Germany's rail network today, close to major rail hubs in Germany and also on several busy lines. This is why the rail network has to be upgraded and become more efficient to ensure that more goods can be transported by rail. One important instrument for improving the efficiency of the system is longer freight trains. They will reduce the cost of transport and improve the capacity utilisation of the network, enabling a greater volume of goods to be transported without having to construct new lines.
100 metres and more: a 740 metre freight train operates with 35 wagons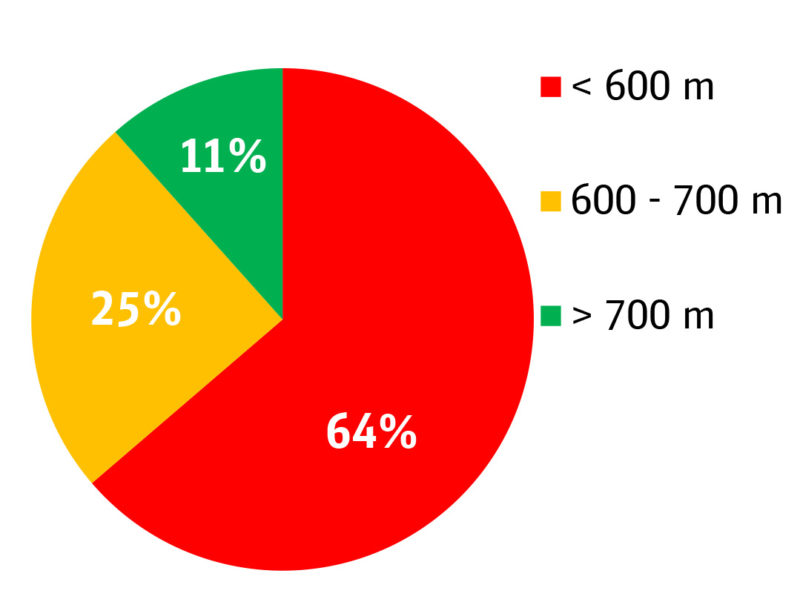 Over 60 percent of the freight trains operating on Deutsche Bahn's network are shorter than 600 metres. The maximum length of a train largely depends on the line's technical limitations. The train operating companies and DB Netz AG, the rail infrastructure company that operates around 87 percent of the German network, have been working since 2006 to upgrade the infrastructure for longer freight trains. European standards for the length of a freight train are 740 metres and, in some cases, 835 metres. Worldwide, there are even freight trains operating with a length of 1,000 metres, 1,500 metres and more.
An average freight train operating on the German rail network is comprised of between 25 and 30 freight wagons. In future, freight trains should be comprised of 35 wagons, which is the equivalent of 740 metres. For the transportation of containers, this means that a 740 metre freight train would replace 52 heavy goods vehicles.
Fit for longer freight trains: upgrading the rail network is simple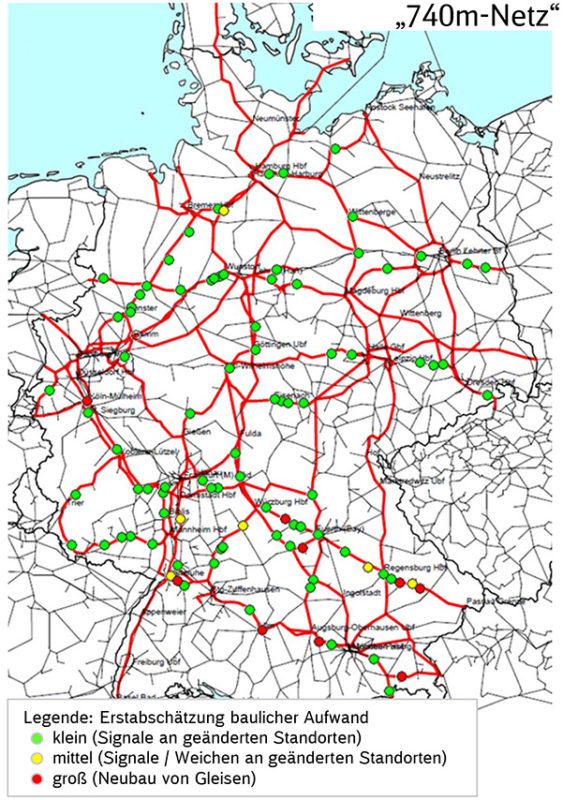 It is only necessary to make small changes to the network to enable standard EU length freight trains to operate. In order for a 740 metre freight train to run as safely as shorter trains, passing loops and sidings have to be extended. In addition, upgrades to signalling and safety equipment on the lines and at level crossing may be necessary, for example moving signal lights and monitoring points. Freight loading terminals and combined transport terminals also have to be partially extended so that they can handle a 740 metre freight train. However, compared with constructing new lines, these are inexpensive measures that can be implanted quickly.
Traction vehicles and freight wagons are already suitable for operations with 740 metre freight trains. Technical upgrades are only necessary when they are being used on freight trains with a length of 1,000 metres and more because the extra weight and length have an impact on train handling and braking performance.
Noise emissions from a 740 metre freight train arise in the same way as with shorter freight trains. This was the conclusion of experts working at the Technical University of Harburg. They showed that the elimination of one or two traction vehicles can even have a positive impact on overall noise emissions because the phases of increasing and decreasing noise levels are reduced. In other words: a passing 740 metre freight train will be perceived as less stressful than when several shorter freight train pass by.
European transit transport: the 740 metre train is standard
The 740 metre freight train has become well established in trans-European rail freight transport. To ensure that there are no limitations between Germany and Europe it is necessary that this length is also becomes the standard throughout the German network. Six corridors on the trans-European core network pass through Germany, including the most important north-south route between Rotterdam/Antwerp and Genoa, which runs along the Rhine and connects to the major German economic regions Rhine-Ruhr and Rhine-Main-Neckar.
For the largest German ports in Hamburg and Bremerhaven, freight trains with a length of 740 metres also play a major role in hinterland transportation. Just in the port of Hamburg alone, around 200 freight trains with approx. 5,000 wagons operate on workdays. In the transport of bulk goods in particular, rail freight is the leading mode of transport, although the majority of new cars are also transported by rail. The container ships that transport freight to the ports are also increasing in size. Conversely, this makes it necessary to remove a larger volume of freight in a very short space of time. Operating 740 metre freight trains will increase capacity and reduce shunting cycles and train allocation times.
Why operating longer freight trains is worth it
Increased capacity utilisation of the network. This will make better use of the existing infrastructure and boost rail freight transport's economic performance. In addition, increasing train utilisation is also less expensive than constructing new lines.
Increased productivity will cut operating costs. With additional wagons, more freight can be transported on the same trip, lowering the cost per tonne-kilometre and strengthening rail freight in its competition with HGVs.
Reduced energy consumption. The increased volume of freight capacity means fewer trains are required, saving traction current.
Increased demand for rail freight transport. As result, more freight can be transport by rail. This will reduce the volume of traffic on motorways and national roads, leading to a cut in CO2 emissions. A major contribution to climate protection.
What rail bosses are saying
When it comes to operating 740 metre freight trains, the rail sector is united: the advantages are obvious and upgrades to the rail network should be implemented quickly.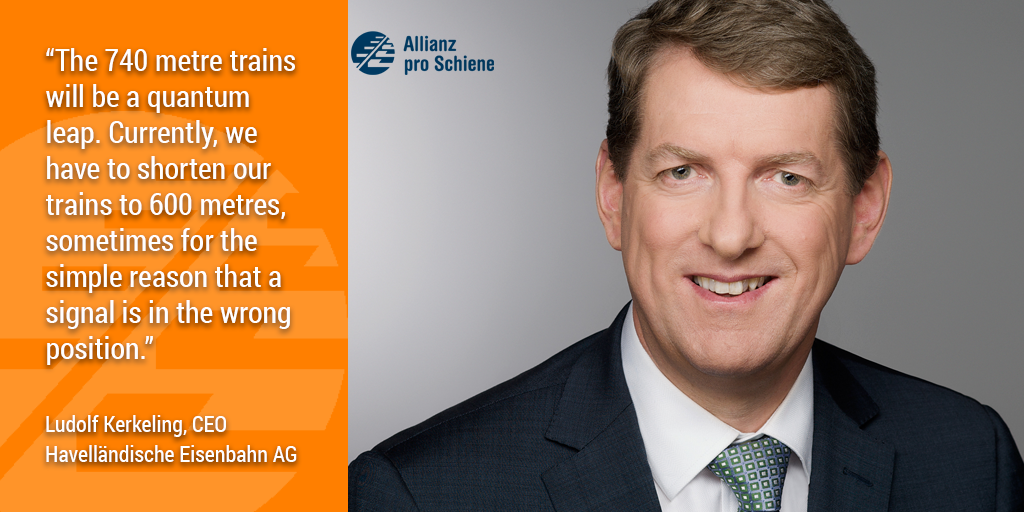 Allianz pro Schiene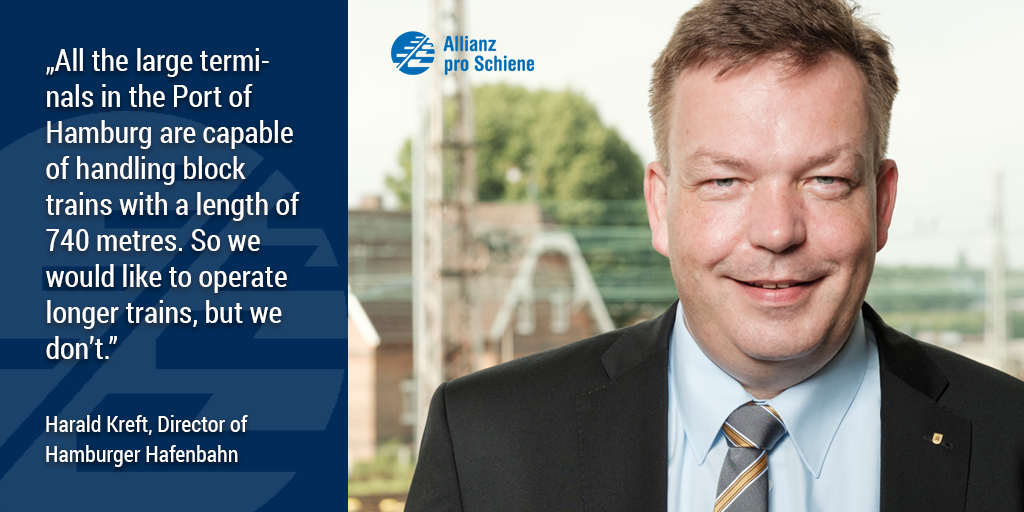 Allianz pro Schiene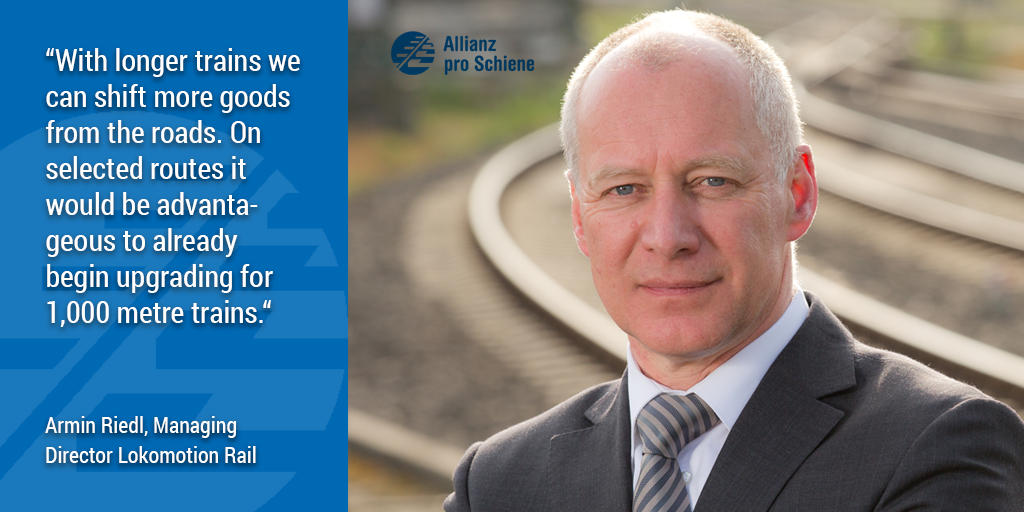 Allianz pro Schiene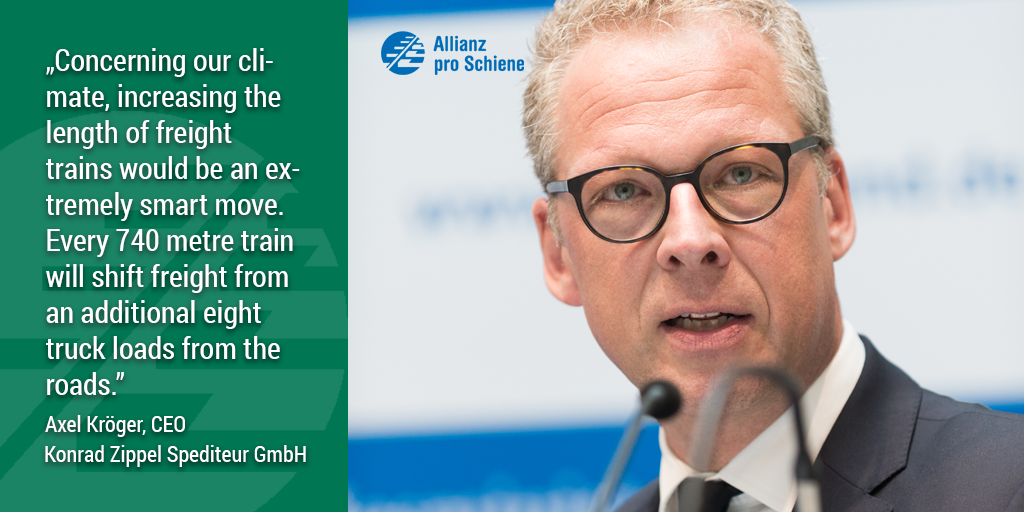 Allianz pro Schiene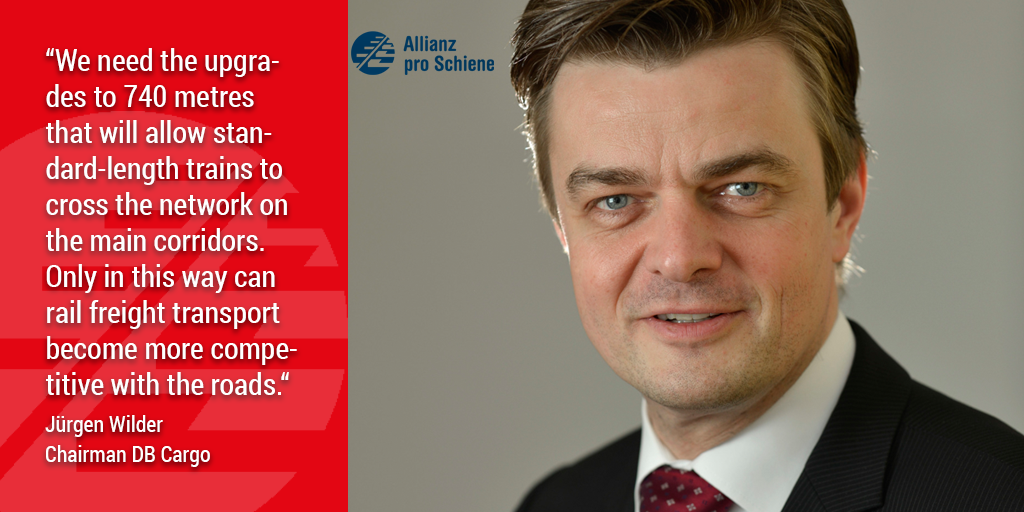 Allianz pro Schiene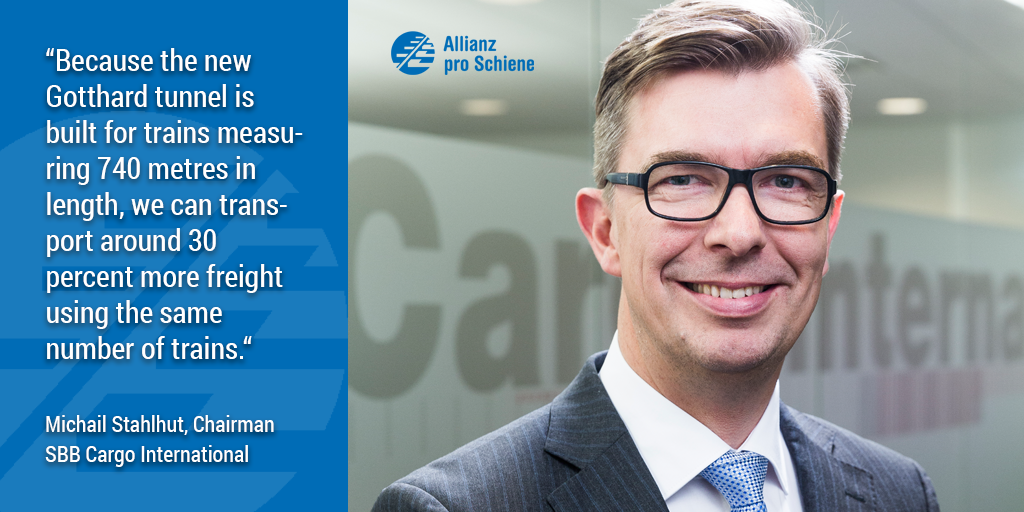 Allianz pro Schiene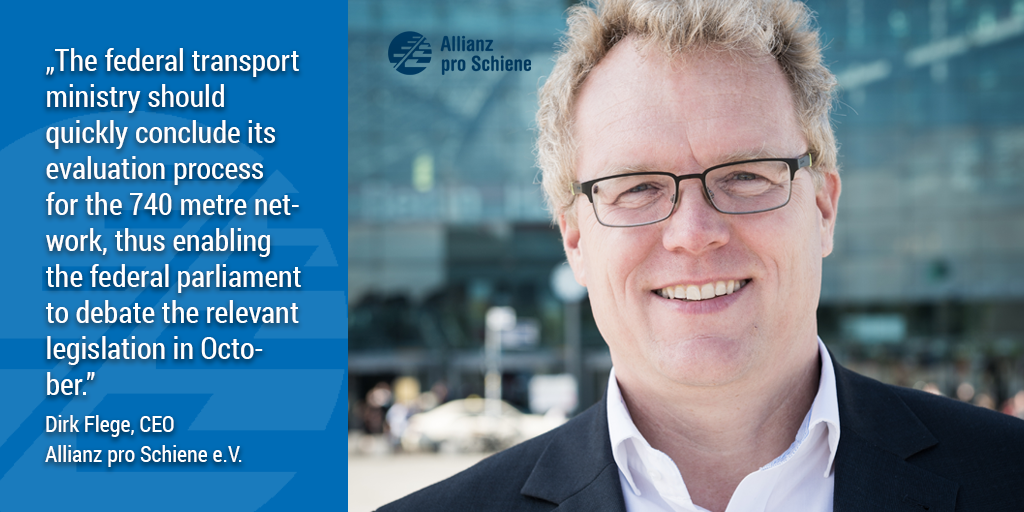 Allianz pro Schiene
Padborg – Maschen, a success story: positive experience with long freight trains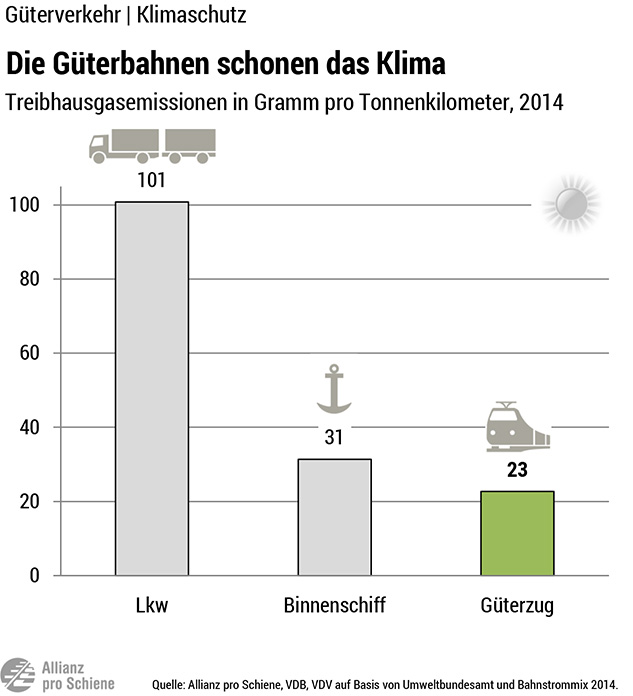 From 2012 to 2015, trials of longer freight trains were carried out between the marshalling yard in Maschen (south of Hamburg) and Padborg in Denmark. After upgrades to the 210 kilometre line, freight trains with a length of 835 metres (40 wagons) were operated on the route. In Denmark, 835 metre freight trains have been operating for some time. Previously, trains had to be divided at the border station in Padborg, whereas now they can run through to the edge of the port of Hamburg.
As reported by network operator DB Netz AG, the results of the trials of longer freight trains were extremely positive. It was possible to increase the volume of freight by 25 percent and the capacity utilisation of the trains by 22 percent. From the start of the trials in December 2012 up to February 2014, the total number of freight trains trips was reduced by 200. Official approval for 835 metre freight trains was granted with the introduction of the 2015 timetable. As a result of this positive outcome, freight trains with a length of 1,500 metres will now be tested in a follow-up research project.
Politicians must set the policy framework
Along with the train operating companies and the network operator, policy makers also play an important role in enabling operations of longer freight trains. This is because the major share of investments in infrastructure is funded by taxpayers, including rail infrastructure (which the federal government is mandated to guarantee). In addition, the train operating companies are required to pay track access charges, which are then invested in maintaining the railway infrastructure.
The rail infrastructure operator DB Netz is contracted by the federal government with the construction and upgrading of new lines. However, politicians have not yet understood the urgency of making the rail network fit for longer trains. In the government's recently published Transport Infrastructure Plan (BVWP), the construction measures to enable 740 metre freight trains to operate were not classified as requiring 'priority action' but are either 'on hold' or are still being assessed. The German Pro-Rail Alliance is working to make sure that 740 metre freight trains can operate as soon as possible.
Background: rail freight transport's market share
In 2015, rail freight had a market share of 17.3 percent of total freight transport in Germany. In comparison with other modes of transport, rail freight is ranked second – well behind road freight transport, which has a market share of 71.7 percent. This means that almost three quarters of goods are transported by heavy goods vehicle. Shippers and freight forwarders nearly always decide in favour of the roads because rail transport is more expensive by comparison. This is due to the distorted competitive conditions, which benefit road transport. In order to remain competitive in the face of rising costs, the railway sector is endeavouring to make rail freight transport as efficient as possible.