Berlin, October 15, 2015. The Pro-Rail Alliance has welcomed the settlement reached last night by the national government and the federal states in which they agreed to increase government funding to eight billion euros from next year and for an annual increase of 1,8 percent thereafter. "The arbitration committee has now broken the stalemate, which was a danger for German commuters, and ensured greater transparency in how the funds will be spent. This is good news," said Dirk Flege, managing director of the German Pro-Rail Alliance, on Thursday in Berlin. "Unfortunately, the agreement, which lasts until 2031, will not provide sufficient funding to further expand regional transport in Germany and to keep ticket prices stable," complained Flege. "The government and the states should ensure that funding is fairly distributed of between metropolitan and rural areas when parliament passes the new legislation". The federal states had originally asked for 8.5 billion euros per year and an annual increase of two percent in order to expand services and to absorb rising costs.
The Pro-Rail Alliance still believes that the 8.5 billion euros demanded by the federal states is appropriate. "The agreement is half a billion euros lower than what is required. Across Germany, ticket prices for regional transport will also remain under pressure because of electricity price increases," warned the Pro-Rail Alliance manager. Higher prices send the wrong signal to commuters who have chosen to use climate-friendly transport modes. "The fact that the electrically powered railways now have to pay higher EEG levies, which are used to fund the transition to renewable energy, also puts pressure on travellers," said Flege, who suggested that the federal government should reduce the tax on the electricity used by the railways. "Lower taxes on electricity could mean that the limited funding for regional transport will not be spent on taxes but on transport services. A measure that many other EU countries have used for a long time to help make progress on climate protection and to ensure that their railways remain affordable for travellers," said the Pro-Rail Alliance's managing director.
EU comparison: taxes levied on electricity used by the railways
Electricity tax in euros per megawatt/hours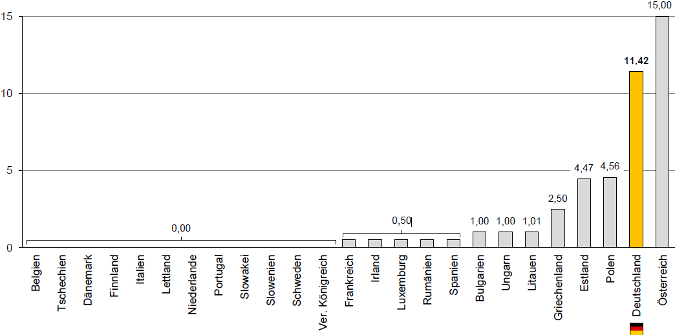 Source:Pro-Rail Alliance based on CE Delft 2012.
Additional information (German)